Wednesday, April 29th, 2009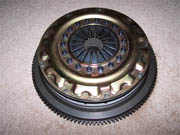 Now came the time for "Project Red" to get a clutch upgrade as well. Having had less than optimum success with stock-type clutch upgrades, with full-face kevlar discs not being strong enough and metallic puck type disc not being street-friendly with harsh engagement, we opted to go this time with multi-plate clutch setup from OS Giken, one of the original aftermarket performance clutch manufacturers in Japan. OS Giken multi-plate clutches provide the comfort of the stock clutches pedal feel and the strength of a race ready twin plate.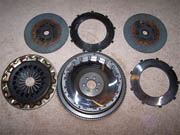 This kit includes a lightweight flywheel and pressure plate combination that is patented in Japan and it comes with the very unique OS style twin clutch disk system (Pic 1, Pic 2, Pic 3). It replaces a pull-style clutch release mechanism with a push-style setup. The OS Giken clutch setup seems to be the clutch of choice for many high horsepower 2JZ powered mkIV Supras as well as the 7MGTE powered MkIII Supras. It seems like we can't go wrong with our choice – the future will soon tell.