Monday, December 8th, 2008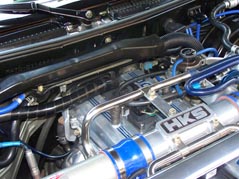 In order to clean-up and protect the main engine harness we used a plastic loom retrofitted from a 1991 7MGE equipped Toyota Cressida, which mounts pretty much without any modifications. It keeps the wiring harness away from heat and adds a "cleaned-up" look.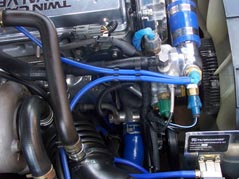 Also, on a subject of heat and appearance, a factory rubber lower radiator hose was replaced with a silicone unit from OBX. It's a direct substitute for a factory original black hose, no modifications necessary. The fit is tight, and it requires strong hose clamps to prevent any coolant leaks. Otherwise - improved appearance and heat protection provided by a brand new piece.